Shopping for glasses shouldn't be stressful, but many people avoid it because it can be overwhelming. Some are turning to online shopping for frames, but scrolling through pages of options can produce results that don't correct your vision and sometimes make it worse.
Having a knowledgeable professional as your guide can transform the shopping experience. Buying your glasses in the optometry office with a skilled optician can simplify your shopping experience and help you feel confident in your choice of glasses.
Whether you're looking for fresh frames for a new prescription, need sunglasses to protect your eyes, or want to learn more about the best lens coatings for your lifestyle, your eye care team has the experience to help.
Why You Should Avoid Buying Glasses Online
Online shopping is a modern convenience that's easy to love, but while ordering grocery delivery and pre-ordering coffee for pickup are life-saving services, buying your glasses is one thing that's better done in person.
Some major drawbacks to buying glasses online include the following:
You don't get to try on the glasses in person
You don't have in-person help from a knowledgeable optician
It's difficult to accurately take the measurements you need for properly fitted glasses
A large proportion of glasses ordered online come with incorrect prescriptions or other problems
Incorrect prescriptions can distort your vision, leading to eye strain, headaches, and other eye irritations
Returning glasses can be difficult
Insurance can be complicated when online shopping
If you have unique prescription needs, like progressive lenses, your fit can't be left to chance
There's nothing worse than settling for a pair of glasses you don't love out of convenience. For a streamlined buying experience, shopping in-office for frames and lenses helps you find glasses you'll want to wear.
Personalized Service & Expertise
Your eyes are unlike any others, so it's important that your glasses reflect that. In working with your optician, you can draw on their experience to ask questions, get advice, learn how to best care for your glasses, and have a personalized experience.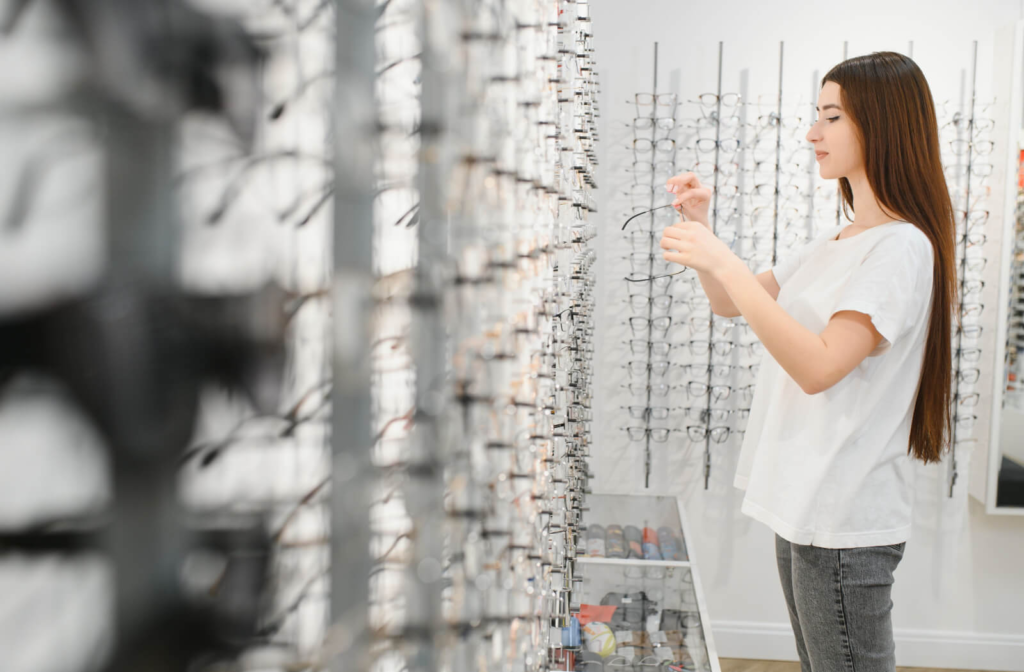 Access to a Wide Range of Frames & Lenses
Optometrists have a wide variety of frames to discover, and you have the ability to try and compare different options to see how they flatter your face. An unexpected style or color may grab your attention that you would otherwise never think to try.
Frames are only one part of your eyeglasses. Your lenses will be carefully crafted to suit your prescription, and by buying in-office, you can discuss different coatings, lens features, and more with your optician to get glasses that fit your lifestyle.
Precise Measurements & Fittings for Optimal Vision Correction
The most important thing to consider when shopping for glasses is the accuracy of the lenses. When you get glasses without the dedicated help of professionals, there's a margin for error, and a mistake of even a few millimeters can disrupt your visual clarity.
Opticians precisely measure your pupillary distance to help determine where the pupil will be focused on the lens. An incorrect measurement can cause you to get glasses that feel uncomfortable.
During a measurement, your optician can consider your frame size and what you're using your glasses for, such as nearsightedness, farsightedness, astigmatism, or presbyopia, to create lenses that sharpen your vision.
Convenient Ongoing Care for Your Glasses
As you wear your glasses, you may notice the arms need alterations, the nose pads grow uncomfortable, or you accidentally damage the frames. When you get your glasses from an optometry team, you can easily access opticians for adjustments and repairs.
Support a Local Business in Your Community
Supporting local businesses is a good feeling. It helps you build relationships with your providers, gives you access to real-world advice and guidance, and personalizes your interactions. Your optometry team can take care of your optical needs and address your eye concerns closely because there's a level of care you can't get from an online shop.
Assistance with Insurance Claims
Insurance can be complicated, but your optometry team can help you maximize your coverage. We work to make the billing process easy, so you can dedicate your energy to finding the right glasses and sunglasses for you.
Trust In the Reputation of Your Optometry Team
A friendly face can transform your shopping experience, make it easier to ask questions, and give you someone to turn to if things go wrong. Unlike on websites, you're more than just an order number, and since you'll be wearing your new glasses for at least a year—maybe even every day—we want to make sure you love them.
Schedule a comprehensive eye exam at Rancho Santa Margarita Optometry to address your eye concerns and get a new prescription. Once it's up to date, you can work with our opticians in the search for your new pair of glasses.