Children in the early stages of their lives are constantly growing and developing, and one key to making sure that they are on the right path is protecting their eye health. Children should have their first comprehensive eye exam when they are 1 year old.
Making sure that your child has their first comprehensive eye exam helps your optometrist monitor their developing vision and detect any diseases or conditions in their early stages.
These early eye exams can also help enable you to make an informed decision about the early detection of eye diseases, so you can catch and correct any early signs of eye disease in your child's eyes before those diseases progress.
How Often Should You Take Your Child to Get an Eye Exam?
At the age of 1, your child should have had their first comprehensive eye exam. This will determine if there are any issues or concerns that you need to be aware of.
If there are any issues to watch for, your optometrist can advise you on how best to proceed and what the best type of care may be for your child.
If no concerns or issues come up during their eye exam, your child should have their next exam when they reach first grade, at the age of 5 or 6 years old, and then an annual eye exam each year after that.
Risks to Children's Eye Health
There are many factors to be aware of when it comes to your child's eye health. There can be impacts on their visual health at every age, many of which can be detected or changed in their early stages.
At different stages of their development, there are different indications that there could be something going on with your child's vision that they may not recognize themselves or be able to tell you about.
Babies and Eye Health
Some things can affect your child's vision before they are born. Several of the risks for unborn children are related to premature birth. Premature babies are at a higher risk for blindness.
Your baby's eyes should be able to follow objects and focus on different things going on around them as they develop during their first months. An exam after their first year helps to confirm their eyes are healthy.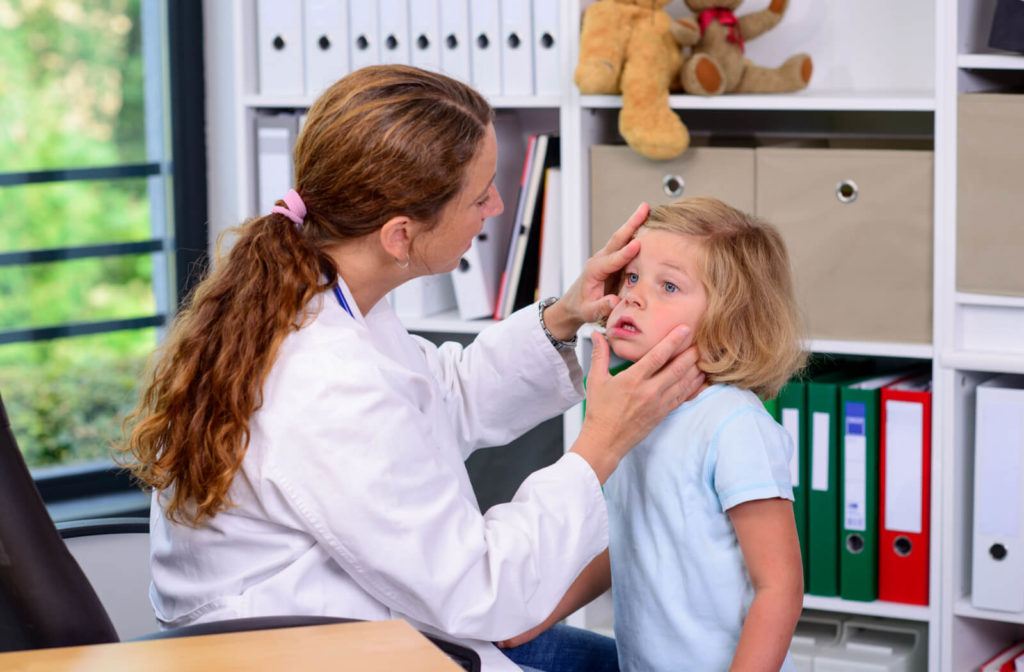 Toddlers Up to 5 Years Old
When children are 12 to 36 months old, they should be checked for signs of healthy development. During this exam, your optometrist will check for things such as amblyopia—or lazy eye—which can start to develop during this age range.
Your eye doctor may also check for other eye conditions, such as:
Strabismus (misaligned eyes)
Difficulty recognizing colors
Other vision development challenges
One of the best ways to make sure that your child is getting the best care for their visual health is to get treatment as soon as possible. By starting the routines early, your optometrist will be able to monitor your child's eyes and recommend the best form of treatment early on.
Children Over the Age of 6
As children get older, they may be able to better vocalize if there is something changing in their vision. There are also indicators you can watch for with your child's vision that can help you assess their visual health and know when to speak to your optometrist.
Children need to have visual skills in order for them to have effective learning and reading. Some of these include:
Visual acuity
Visual perception
Eye tracking
Eye focusing
Eye teaming
Eye-hand coordination
These are some of the skills that are important for a child's early and ongoing learning. If they are unable to focus and see what they are being taught, it can cause difficulty for them. By ensuring that their vision is checked on a regular basis, many of these issues can be detected early.
How Do I Prepare For My Child's First Eye Exam?
During your child's first eye exam, your optometrist may ask questions to learn if there is anything to be concerned about. It can be helpful to pay closer attention to your child's vision in the days or weeks leading up to the exam so that you can answer any questions your optometrist may have.
During your exam, your optometrist can provide advice and guidance on how to prepare for future eye exams and eye care treatments.
Next Steps
If you want to learn more about your child's eye health or have questions, the eye care professionals at Rancho Santa Margarita Optometry are here to help. Book an appointment today to speak to one of our doctors. Your eye health is important to us.